I've been sewing up a storm today. I'm finally diving into my stockpiles of fabric. Getting to the point of seam ripping all of the zippers out of miscellaneous cut up pairs of pants doesn't seem so much a daunting task, now that I have a studio space to work in. I've got several squares of the earthy tones cut out, and am getting ready to dive into knocking out some more.
I'm getting so accustomed to taking pictures every time I create something, I decided to post a little note, in case anyone is curious about my progress. My pouches still have a little bit of fuzz on them in these images, but it gives them character!
I've got stockpiles of jewelry, and will be featuring my current works at
White Lake Trailside
for Labor Day weekend.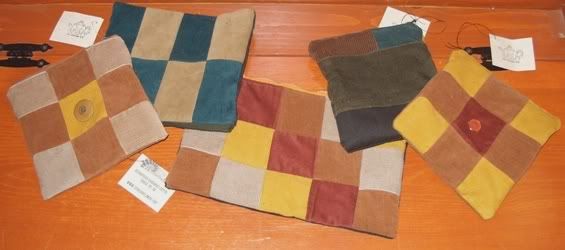 I walked up to the farmer's market and bought some beauutiful black eyed susans today. Sunflowers from Montague Foods brighten up the little brick wall down by the tree area. I put them outside the studio to spruce things up. I could spend months landscaping out there. Guess I will do what I can for now. My whole day yesterday was consumed by sweeping the walk with a little kitchen broom and a snowshovel, trimming the shrub with scissors, pulling the tops of the weeds to cut them down. I carried plastic storage tubs half full of very heavy dirt and rocks that had somehow collected down the front and side walkway I also cut back the low branches in the driveway. Luckily I have a tree trimmer. I will rejoice the day when I have a lawnmower and proper gardening tools.

I got some silverware and some nice DIY books, kids craft books, and a very old Dr. Seuss book about an owl and a firefly. from the little thrift store called the Junction. It's down the block from the StarSunflower Studio. I was grateful for the wares...reusing plastic forks and spoons was getting pretty old.

My question for the day is: "What is sustainability?"

The answers that roll through my head are: family, community, gardens, seeds, farmer's markets, consuming less, sharing more, thinking about what you throw away, there are people in the your own little village that struggle to get by, giving away things that you no longer need, moving beyond the ego and showing kindness, having gratitude every little thing, and every living person. All life deserves our love. Beyond sustaining environmentally, we strive towards sustainability as a community who sometimes gets caught up in the ego drama of psycho planet.

Light and Love and as Merl Saunders sung it... "Save Mother Earth, nana na na naa"

Oh yeah, I almost forgot...I am GRATEFUL for the web! I found wonderful little links on this SO inspirational blog: http://www.twelve22.org/
Here's the zipper tutorial if anyone out on the wu wu wu is interested: http://www.twelve22.org/2006/07/zipper_tutorial.html